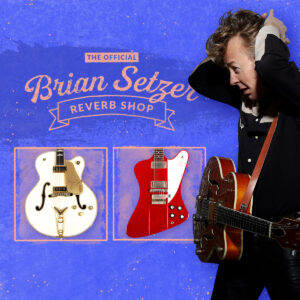 If you know rockabilly legend Brian Setzer, you know about his love for Gretsch guitars. When Setzer first opened his official Reverb shop last year—amid all the vintage amps, effects, and guitars from other brands—he put up 34 Gretsches for sale. Turns out, he was still holding some great ones back.
So TODAY, The Official Brian Setzer Reverb Shop opens its doors once more. This time, it includes a show-stopping 1955 Gretsch White Falcon, a Gretsch Custom Shop White Falcon masterbuilt by Stephen Stern, and dozens of other incredible guitars and amps.
The vintage White Falcon is not only historic, but a historical outlier. It comes from the first full production year of the famous model, which Gretsch showed off at NAMM in 1954 and placed in its catalogs in '55.
Setzer's '55 is all-original yet has some peculiarities compared to others. Instead of the standard gold sparkle binding, it has gold metallic, which Setzer thinks may have been a factory mistake or just the preference of the worker building it that day. The pickguard is also rather large compared to other Falcons, while the body is neither thick nor thin. "They were just starting to feel out what these guitars were," Setzer says.
The modern-day White Falcon built by Stephen Stern is a premium build that stays true to all the original specs fans have come to expect from the guitars. Setzer also used this specific one on his Rockabilly Riot! tours, notably while playing his instrumental version of Bill Monroe's "Blue Moon of Kentucky."
Also included in The Official Brian Setzer Reverb Shop are:
A 1964 Gibson Firebird in Cardinal Red
A 1962 Fender Twin-Amp with original speakers
A 1961 Gretsch Cowboy Amp
A Carter pedal steel guitar
Numerous echo units including Echoplexes and Klemt Echolette 5s
The Official Brian Setzer Reverb Shop opens its virtual doors TODAY Wednesday, September 1.